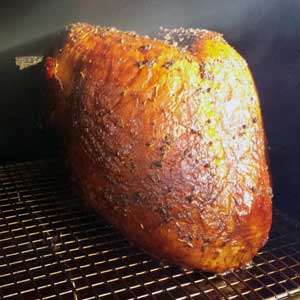 Last week we celebrated our first Thanksgiving on the road. Those of you who have heard my husband tell the story of my Thanksgiving meal meltdown understand why it was so important to us to make some sort of plan for the day.
364 days out of the year, food is something I eat in order to live and to nourish my body. I don't tend to get a lot of cravings and my criteria for food is that it is healthy, tastes good, and is easy to prepare.
All that goes out the window on Thanksgiving. I want the turkey (for the smell and just a bite or two to eat), the rosemary stuffing, the garlic chive mashed potatoes, and the pumpkin pie. In the morning, I need to watch the entire Macy's Thanksgiving Day parade and maybe a just little bit of the National Dog Show.
This year on the road, my husband manufactured some serious holiday magic. We were invited to stay at the Bay Breeze RV Resort in Gulf Shores, Alabama with a couple of new friends we met in Eastport, Maine.
On Turkey Day, we woke up and watched the live stream parade while writing up a last minute grocery shopping list. Having recognized my need for certain traditional foods on this day, I have learned to set myself up for success by making and bringing said foods to any Turkey Day festivity so as to not be disappointed.
We dashed over to Walmart to pick up our supplies. Yes, we were *those* people rolling the dice and hoping that all the ingredients we – and everyone else making mashed potatoes, stuffing, and pumpkin pie – needed would magically still be on the shelves. Luckily for us, they were and the lines weren't even long. Hurray for spending the holiday in a small town rather than an oversized city!
Back in our cozy 5th wheel, I got to work in the kitchen while we watched a movie (having gotten our fill of the dog show within the first 10 minutes or so).
A few hours later, the food was ready. We bundled up in cozy clothes and ventured out. The cool breeze blew in from the bay and mingled with the warm rays of the sun. We gathered around a fire with our Leelanau Cellars cranberry wine (not an affiliate link, but a personal favorite and tradition) and traditional Thanksgiving dinner.
The company was new, the food familiar, and the experience one that showed no matter where our travels take us, on the holidays we can create our own blend of tradition and exploration.
On this day, we are thankful for our time together, for the blessing and privilege of living a rich and fulfilling life together. We are grateful for each other, for our mutual desire to live a life on our own terms, defined by our own desires whether they fit within cultural norms or not.
We are also thankful for all of YOU – our friends and family who are following along on our adventures and living vicariously through us. It is so special to share our stories with you.